The nation's stock market recorded four straight weeks of bull-run, attributed to positive news within the periods that had rekindle investors interest and positive sentiment, despite profit booking on the part of traders. The recent reactions to the  news of President Muhammadu Buhari's signing of the budget into law, hike in the price of petrol and deregulation of the oil and gas sector, coupled with the initial fund released for implementation of the budget  have push the market above the march resistance level to the beginning of the year position.
The composite index NSE ASI crossed the psychological line of 26,000 again on a strong volume, a good sign of a recoverying market. However, sustainability remains doubtful, since there are no strong fundamental change, improvement in the economy or in the market to support this rally, meaning pull back is imminent on the heel of profit taking.
The stocks in petroleum products marketing sector are enjoying immediate benefit from the deregulation of the price of Premium Motor Spirit and the hike in pump price on the back expected increase in margin enjoyed the marketers. This influenced others equities during the week, especially following media reports that government plans to remove subsidy on Monday. At the same time, the economic reality of the hike is that inflation rates would be pushed higher as general prices of goods and services have increased immediately after the pronouncent of the 67.63 percent increase in fuel price from N86.50 to N145 per liter. The expected increase in cost of living as a result of this hike will affect saving and investment despite the stock market hedge against inflation.
Before the hike, inflation rate was above the 12 percent MPR (same as  the interest rate, which suggests that MPR in the next CBN monetary policy meeting may likely go back to its high of 13 percent in the recent years, This means that money market instruments will become more attractive with less risk and funds will gradually start to flow into the stock market. Also we expect a faithful implementation of the budget to reverse the illiquidity in the system and usher in a progressive economy that will boost the nation's fundamentals to attract local and foreign investors along the line.
Meanwhile, the global markets were mixed, during the week under review to reflect the disappointing earnings reports across the globe. The United States' market was mixed, due to weak earnings and employment numbers release recently. This discouraging numbers have affected many equity indexes of the US market revealing the state of the economy and its recovery stage.
In Europe, stocks price are falling due to below expected earnings that were released although valuation remained cheap relative to US market. The economic recovery of China remain doubtful as reveal by the slower export and import numbers.
The Composite index NSEASI gained 739.43 points to close at 26,441.03 from an opening figure of 25,701.60 representing 2.88 percent growth. Similarly, market capitalisation for the period closed higher at N9.10 trillion from the opening value of N8.84 trillion. The leading index's year-to-date returns stood at a negative 7.69 percent, while market capitalisation for the same period lost N678 billion.  The market breadth finished positive with more number of advancers that outweigh decliners in the ratio of 54 to 17.
The NSEASI opened the week's trading session upbeat with 0.49 percent gains, it retreated into the negative region for the second and third trading sessions shedding 0.70 percent and 0.06 percent respectively. The trend however reversed on the fourth and last trading sessions with 0.91 percent and 2.23 percent.
The composite index NSEASI and other sector indices were in green except for NSEINDUSTR which dipped by 1.15 percent. The weekly market transaction levels measured by aggregate volume and value improved by 73.65 percent and 51.70 percent respectively in contrast to last week's closing levels. In the week under review, a total of 1.83 billion shares valued at N14.47 billion were exchanged in 20,058 number of deals compared to 910.66 million  shares valued at N6.41 billion exchanged in 15,023 deals recorded in the previous trading week.
NSEASI WEEKLY TIME FRAME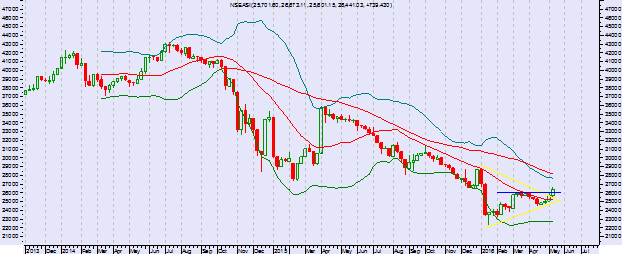 Technically, the market is strong and in a bull transition as it sustained the weekly up trend, trading above its weekly 20-day moving average at 26,441.03 but still below the 50-day moving average and at the same time breakout  the March resistance level to January 2016 position . This break out confirm a bullish market. The strong demand as reflected in the volume were as a result of market positive  reaction  to petrol price hike and initial disbursement of fund for implementation of 2016 budget, despite the gloomy situation of the economy. The break out of symmetrical triangle has confirm continuation of trend, depending on market forces as the market open this morning.
Looking at other technical indicators, NSEASI closed below the upper band by 25.6%. During the past 10 bars, there have been 6 white candles and 4 black candles for a net of 2 white candles.  During the past 50 bars, there have been 21 white candles and 29 black candles for a net of 8 black candles. MACD is currently bullish since it is trading above its signal line. The MACD crossed above its signal line 10 period(s) ago.  Since the MACD crossed its moving average, NSEASI's price has increased 2.40% and has ranged from a high of 26,673.11 to a low of 24,181.51. RSI is reading 51.20 and appears neutral while MACD remains bullish uptrend since early May. Stochastic Oscillator are signaling buy while CCI are signaling sell.  Money flow index is indicating strong entrance of funds into the market
During the week under review, four companies share price were adjusted for dividend, Nestle Nigeria Plc, FBNH, Okomu oil and Nascon Ailled  Also, 4 companies released their first quarter earnings while 3 released full year earnings. They include: Unity Bank, International Breweries, PRESCO, Standard Alliance, SCOA Nigeria and C & I Leasing. Tiggerbrand PLC led the advancers chart with 50.13 percent gain, while the flip side was topped by University Press  with 14.21 percent decline.
Market Outlook
The market closed positively on increased investors sentiment boosted by news on hike fuel price and deregulation of oil and gas sector, coupled with the news of first disbarment of fund for implementation of 2016 budget. With less company news in form of earnings reports and profit taking expect mixed performance.   Investors should take advantage of the low prices to accumulate in stages, stakes in good companies with long term investment goals as first quarter earnings are revealing the earnings power of these companies.
STOCKS TO WATCH
 Lafarge Africa, Access Bank, Conoil, Mobil. CCNN , Zenith Bank, UBA, FBNH, Eterna, Honeywell and Livestock
REVIEW LAST WEEK STOCKS TO WATCH
The performance of equities recommended last week on this last week, Time is money and sending your money on an errand to work for you makes the difference in wealth creation and accumulation.  Any investment you can make 10 percent return in a week and does not take all your time is good for your to learn the secret and the risk of the  business and play along to grow your income to meet increasing needs and become financial independent.
Investdata weekly stocks to watch, always set 5-10 percent stop loss
| | | | | |
| --- | --- | --- | --- | --- |
| Company | Open | Close | % Change | Remarks |
| Dangote Cement | 168 | 165 | -1.79 | Wait |
| Zenith Bank | 13.15 | 14.70 | 11.79 | Run with Profit |
| UBA | 3.40 | 3.63 | 6.76 | Wait and watch trend |
| 7up | 145 | 145 | Unchanged | Wait |
| Livestock | 0.80 | 1.00 | 25.00 | Run with profit |
If at the beginning of last week you invested N100, 000 into Dangote Cement, you would have made a loss of 1.79 percent including 2.1 percent transaction cost of buying.  Which if you wait for while in the stock with sell at a profit knowing the nature of stock and movement pattern.
Zenith Bank in one week is giving you a return of 11.79 percent which no investment window will give you in this short period of time, so will UBA has equally  given you 6.76 percent but you can wait to achieve the 10 percent after transaction cost.
If you are in 7Up you are not profit or losing you money but wait for factors that attracted you into the stock to influence the price
If you are in Livestock and you have made 20 percent in one week after cost of trading that is cool N20, 000 on N100, 000 investment meaning in you are sure of N40,000 if you move to another stock and make average of 7 to 10 percent in a week.  The good news is that a stock can grained 10 percent in day if market sentiment is in favor of that stock.  To learn how to invest profitable in the stock market call the numbers on second page down or visit our office.  Succeeding with your money is at your hand.
Comments
comments
Share this post on: