NSE sets to rebound, as profit taking and reaction to Brexit sell off declines
After recording a drop of N513.80 billion in the last three trading sessions as a result of profit booking and the Brexit reaction, the Nigerian Stock Exchange is showing signs of recovery.This stemmed from the fact that the rate of sell-off declined yesterday when compared with the other two trading sessions.
The buy position improved by 47 per cent as against Monday buy position of three per cent, while sell position dropped to 53 per cent from 97 percent sell position achieved in the previous trading day.
At the close of yesterday trading, the composite NSEASI shed 264.99 points to close at 29,575.24 from an opening figure of 29,840.23 representing 0.89 per cent decline due to panic selling by speculative investors and traders who were exiting for safety to protect their funds. Whereas others were taking advantage of the pull-back to position for end of the month activities due to account balancing by fund managers and other market players and earnings season expectations.
Market breadth for yesterday (Tuesday) was negative, as the number of decliners' outweighed advancers in the ratio of 34:15 on a relatively small volume of selling position of 53 per cent and buying position of 47 per cent. Market capitalisation closed lower at N10.16 trillion from an opening value of N10.25 trillion losing N91.01 billion, representing a decline of 0.89 per cent. The bearish sentiment was reflected on the highly capitalised stocks that dominated the top 10 decliners. The NSEASI's year-to-date return currently stands at 3.26 percent.
The volume of trades stood at 255.25 million shares in contrast with 361 million shares, a decline of 29 per cent from the previous day. Value of shares traded stood at N3.03 billion against N4.01 billion in the previous day, a decrease of 24 per cent drop from the previous trading level. Transactions in the shares of TRANSCORP, GUARANTY, FBNH, ZENITH and UBA topped the activity chart as most traded equities when measured in volume terms.
NSEASI and all sector indices closed in red except NSE Lotus that gained marginal 0.05 per cent and NSE Industrial Goods closed flat.
Despite the downward trend, our stock seasonality analysis showed that historically, July has remained a strong month for equity market returns, meaning that this pull-back is another opportunity to reposition when support level is insight for another bottoming out again. This is based on expectations of full-year scorecards for companies having March as full-year and June half-year earnings season being expected to start tickling in the market. Earnings for March year end is being expected this week and next week for Q2 earnings reports.
During the day under review, two companies made their belated full year earnings reports for 2015 available to the market, Royal Exchange Insurance and Union Dicon Salt Plc.
Technical Position of the market see below
NSEASI DAILY TIME FRAME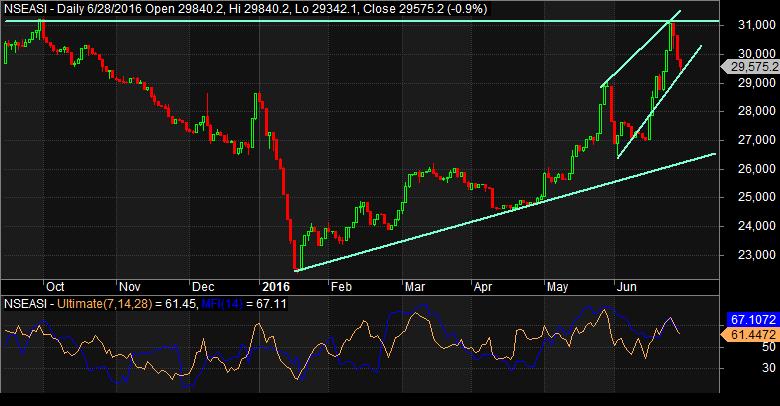 Technically, the market is strong on a long trend but weak on the current trend as a result of ongoing pullback, which the possibility of reversal at this point is high as volume traded is reducing with increasing buy position.  The recent correction after forming a double top, is likely to reverse since the pullback in the bullish channel has touched the lower line of the channel and retrace back on improved buy volume is a signal of reversal as mentioned above.
Looking at technical indicators, early all are still looking down especial the momentum indicators like RSI, Stochastic Oscillators and CCI are signaling sell except MACD that is indicating buy.  RSI is reading 60.14. MFI and Chaikin Money Flow have turn positive signaling entry of funds to the market again.
Market Outlook
Market is likely to reverse today on the strength of improving buy position in expectation of earnings release and rebound momentum of the global markets after two trading sessions of massive selloff triggered by Britons vote to leave EU.
Stocks to Buy
UBA, Ucap, FCMB, Zenith, GTBank, Redstar, Flourmill, 7up, Access and Transcorp.
Comments
comments
Share this post on: